Strategic review and advice on required UX capabilities
Defining the user experience capabilities framework to support a digital transformation program.
CXCO was engaged to advise this Financial Institution's Head of Digital and Emerging channels on the skills, capabilities, delivery framework and supporting artefacts required to enable the team to deliver on the requirements of Digital Transformation Program, and to create an implementation roadmap informed by a gap analysis of existing team capabilities.
The opportunity
Our client began as a branchless bank in Australia, with their contact centre being the key service point for their customers. Changes in the competitive landscape and a shift towards digital banking, in addition to a business strategy to become a primary bank, provided the imperative for this financial institution to develop their digital capacity to remain competitive. In 2012, they embarked on a Digital Transformation Program.
The existing digital team were skilled in content changes and updates, but had limited experience in user-centred design and research. The existing delivery framework was business centred, led by traditional IT processes, and involved no customer and user input into design and development decisions.
Our client's immediate challenge was to build user experience (UX) design capability to enable them to create user-centred digital solutions and support the organisational shift required to design, develop and deliver digital solutions from a user-centred perspective.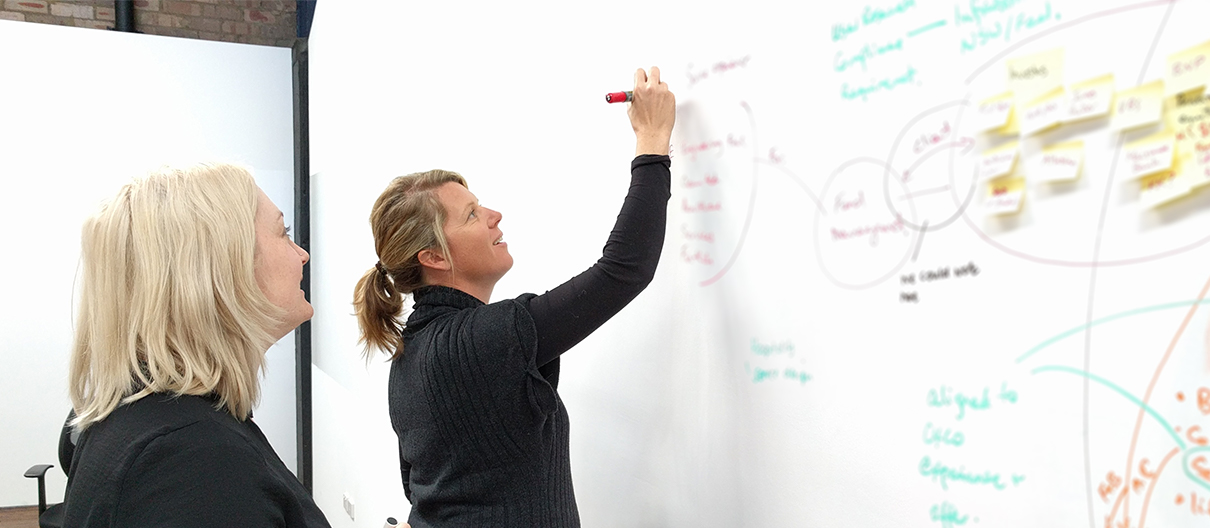 Our approach
Strategic objective
CXCO were engaged to analyse and identify the gap between the existing capabilities, practices and process and those needed to support the business to deliver the digital transformation program. This included recommendations on future capabilities, practices and processes of the newly forming digital team.
Current state analysis
Understanding current ways of working was conducted through interviews and shadowing team members across the project delivery lifecycle. Providing insight into roles, capability, points of interaction, processes, and the use of knowledge systems and application of procedures. A review of the current project delivery methodology identified points at which user involvement could be incorporated. 
Capability building
CXCO provided recommendations on the required structure, roles and skills, and designed a digital delivery framework to support agile project delivery and inform ways of working. The framework was delivered at executive level and communicated across the digital teams.
Implementing change
Our work supported the business case for investment, recruitment of additional team members and subsequent design and development of a series of digital products. CXCO went on to work with the client on numerous projects over the next 6 years. 
Key outcomes

A user-centred delivery framework that clarified activities, roles and points of interaction between teams, and underpinned the successful delivery of the Digital Transformation Program.
Capabilities required to create user-centred solutions and support the business to achieve the Digital Transformation Strategy.
Design of the digital team structure, job descriptions for new roles, and advice on team recruitment.
Over the 6 years that CXCO supported the client during the digital transformation, they transitioned from a secondary to a primary bank, increasing market share and customer satisfaction.