Mortgage customer experience journey
Applying qualitative research methods to surface insights and improve the mortgage customer experience.
Our client wanted to achieve an increase in mortgage applications and needed to redesign the digital experience strategy for researching, applying and managing mortgages.
CXCO was engaged to use observational and ethnographic research to understand the mortgage customer experience for first time-buyers, savvy-buyers, and investors. We communicated the experience through in depth customer journeys, identifying strategic innovation opportunities, and provided recommendations to improve the service and digital experience.
The opportunity
Our banking client had a strategy to become the primary bank for their customers while increasing their mortgage book, extending their market reach and successfully competing with larger banks. Consumers recognised the bank for their direct savings products, but many did not know or considered this financial institution when it came to researching, selecting and applying for a mortgage.
The digital channel was viewed as the primary channel through which our client could increase the number of mortgage applications, with a vision for it to become a key channel for enabling customers when researching, selecting and applying for a mortgage.
The business didn't have a clear understanding of the mortgage customer experience, customer needs and expectations, and customers' preferred channels of use, information requirements, and network ecosystem that supported and influenced their mortgage buying decisions. They didn't know how they compared to other banks from a customer experience and interaction perspective, and were unclear on the unique value proposition they could offer their customers.
The lack of insight into what customers valued, needed and expected from the organisation when researching, selecting and applying for a mortgage, left gaps in their digital experience strategy for the mortgage product and service.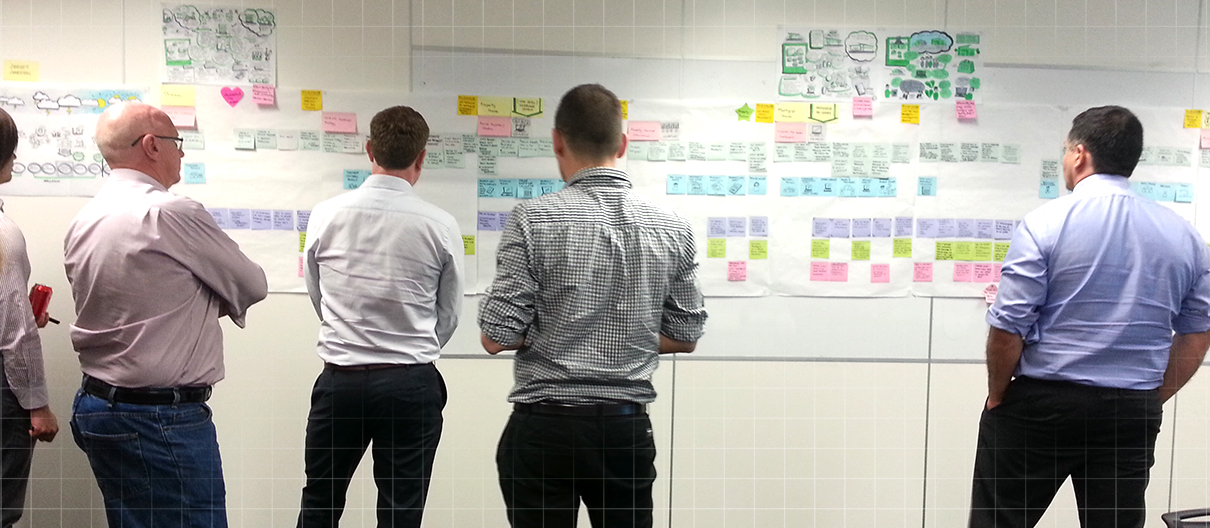 Our approach
Discover
A multi-disciplinary team worked together to define the problem, clarify the strategic intent and identify customer types to include in the research. A kick-off workshop identified research topics and mapped known pain points. Call listening provided insight into the questions customers asked when researching and applying for a mortgage. 
Contextual research
The internal knowledge gained in the Discover was expanded upon through qualitative research with customers. A recruitment matrix was created to ensure we had breadth and depth across customer types, and contextual inquiries were conducted to understand customer needs, experience, motivations, scenarios of use, and tasks when researching, selecting and applying for a Mortgage.
Sense making
Affinity diagramming of audio and observational data was used to uncover themes and surface insights. This included identifying points of failure with the current mortgage experience and opportunities for the future digital experience strategy.
Communicating insights
We communicated the insights, customer needs, pain points and opportunities through a customer journey and report. These were presented to key stakeholders, including executive sponsors, business heads, and service teams.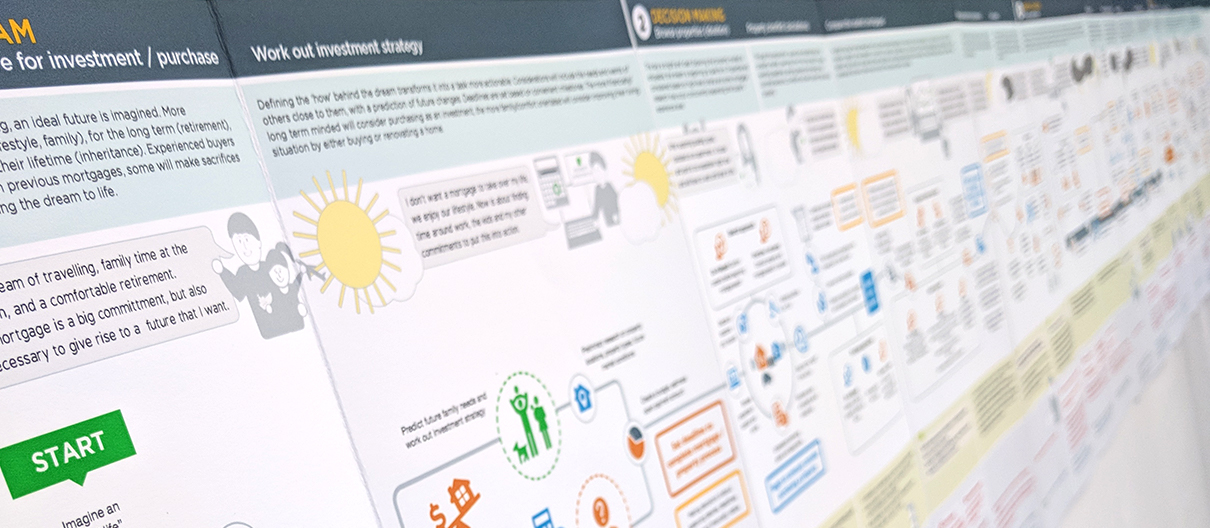 CXCO produced a customer journey as a key deliverable for the client. 
Key outcomes

Insights provided clear direction on investment decisions for the future state customer experience strategy and enabled our Client to identify and develop the capabilities required to improve the customer experience. 
Understanding of points of failure with the existing mortgage product and service experience, informed the creation of a roadmap of initiatives that focused the business on initiatives that increased value for the customer and business.
Evidence-based customer journeys were used to build empathy, up-skill employees, and used in training and onboarding of new employees.