Workplace collaboration platform
Research, insights and design of a financial institution's collaboration platform.
CXCO was engaged by this tier one financial institution to understand the needs and context of use of employees when completing work activities and using the intranet, and to apply the strategic insight gained on user needs and behaviour to define a future state vision and design a conceptual user experience for an employee collaboration platform that increased use, advocacy and trust.
The opportunity
The current intranet was intended to support the organisation's employees across different work functions, areas of responsibility and work level. However, it was difficult to navigate and search, and content was often out of date, inaccurate, or repetitive. There was a lack of governance across the platform, poor content management procedures, and little understanding of the needs of end users.
The business was dealing with an increased number of support calls from employees that were unable to find the information they needed to complete their work activities. Mobile employees were unable to access the platform when out of the office, impacting the quality and accuracy of their work, and employees that had to use the platform as part of their work activity did not trust the accuracy of information. The poor user experience had an impact on employee productivity, resulted in an increase of service support calls, and had led to a reduction in traffic to the site.
There was an opportunity to redesign the platform to meet user needs and apply strategic insight on user behaviour and context of use to inform the future state design of a collaboration platform that meets different user needs.
Our approach
Project initiation
CXCO engaged with business, technical and design resources to form a multi-disciplinary team to design the future state experience. This ensured the proposed solution could be delivered within our client's operational and technical framework. We commenced the engagement by establishing relationships with stakeholders across the business to understand the problem space.
Contextual research
Insight into the current and potential future experience was gained through a longitudinal diary study and follow-up contextual inquiry conducted with the employee. Employees with different work types were included to understand the work activities supported by the platform. Diaries were used to elicit details on collaboration activities, tasks, information needs, touchpoints, and context of use.  
Insights
Contextual inquiries uncovered unarticulated interactions, which gave insight into unmet needs and identified failure demand. Insights were presented in a findings, recommendations and opportunities report, and visually communicated through behavioural personas. 
Concept and design
Informed by the user research, CXCO designed, tested with users, and iteratively refined concepts for the future state employee collaboration platform, communicating the solution through a concept vision on a page, navigation framework, content strategy, and wireframes.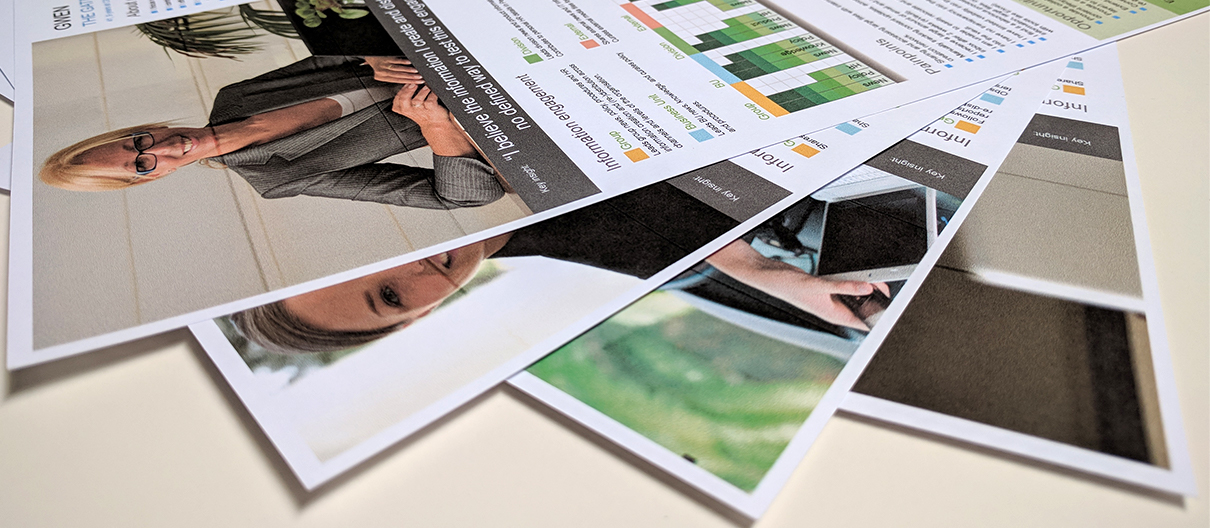 CXCO produced behavioural personas to inform the UX design of the platform and key deliverable for the client. 
Key outcomes

A unified vision of how the future state collaboration platform could link employees, content, and networks within one collaborative virtual space empowering employees to work more efficiently and effectively.
Behavioural personas profiled employees from a psychographic, rather than a business unit perspective, enabling the design of an experience that met users' interaction and information needs.
Concepts, navigational framework and wireframes provided clear direction for future detailed design activities.