CDC Customer experience insights
Research to inform the redesign of a home care service delivery model in response to CDC policy reforms.
CXCO were engaged by our client to analyse their service and client experience, and evolve their business to meet the requirements of the emergent Consumer Directed Care (CDC) policy.
CXCO completed qualitative contextual inquiry research in regional and rural Queensland, with service recipients, their families, carers and medical professionals. The outcome of the research provided our client with insight, recommendations and opportunities to improve their Home care service and client experience, and evolve their business and deliver models to meet the requirements of the Federal Government's Living Longer Living Better reform and Consumer Directed Care (CDC) policy.
The opportunity
In 2015, a change in Federal Government policy towards consumer directed care for home care recipients, brought the recipient of home care to the centre of the decision-making process and given the authority to dictate how their care allowance should be spent. The change left our client questioning how their current business and delivery model would need to adapt to meet policy requirements.
Prior to CDC, home care service providers had orientated their business operations to meet the needs of their primary customer and funding source - the Australian government, rather than an orientation towards the needs of the recipient of care services.
There was an opportunity for our client to react to the policy change quicker than their competitors, reorient their business model to meet the needs of home care clients and adapt their services to the new policy.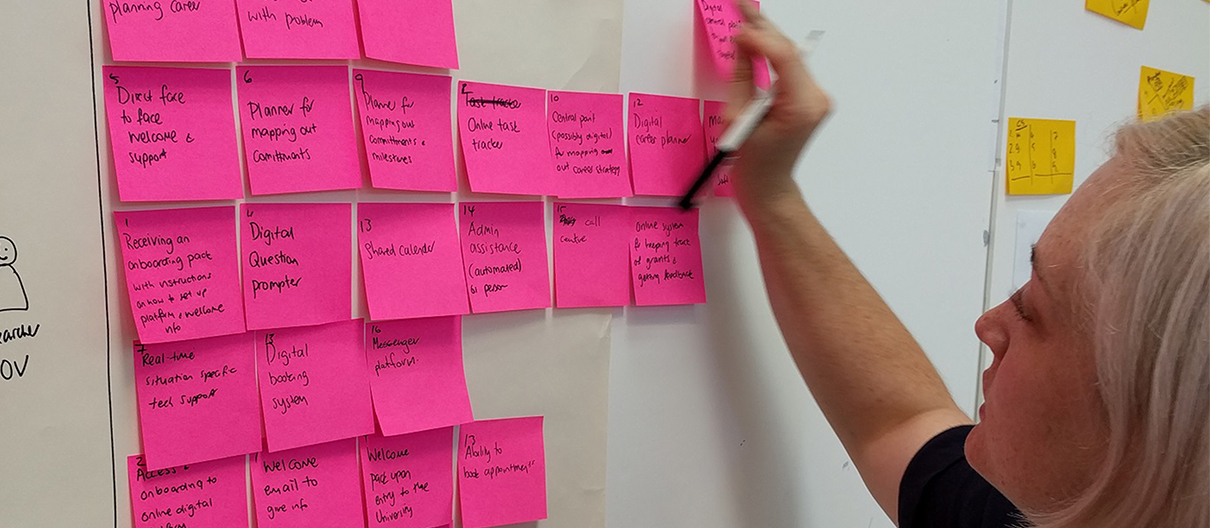 Our approach
Discover
CXCO ran a kick-off and scope workshop with key decision-makers and stakeholders to agree on the project focus and identify participant types to include in the research. Key research objectives were to understand the needs, goals and context of care recipients; the current state of home care provision; the challenges involved in dealing with providers when attempting to initiate services; the factors that influence those who refer recipients for care; and the behaviour and attitudes of those in the wider care ecosystem.
Contextual inquiries
A review of CDC policy, coupled with synthesis of available quantitative data gave us context on the aged care sector and upcoming policy reforms. This asset review informed the focus of the research. Contextual inquiries were conducted with home care recipients, families, carers, nurses and GPs in their own home or place of work across Queensland. CXCO designed the study and recruited participants across rural, regional, and metro locations in Queensland.
Sense making
Data from the Contextual Inquiries was synthesised using a rigorous affinity diagramming method to uncover patterns in behaviours, attitudes, abilities, needs, and drivers. Insights and findings highlighted failure points in the current service and recommendations provided our client with a clear direction on how to improve the customer experience.  
Insights, journey and personas
A customer journey visually articulated insights and clarified the interaction between the recipient of the service, their family, and the carer. Behavioural personas were designed to articulate five primary user types with distinct behaviours and needs. Insights, opportunities and recommendations were delivered in a final report, including the identification of key problems and opportunities to improve the client home care experience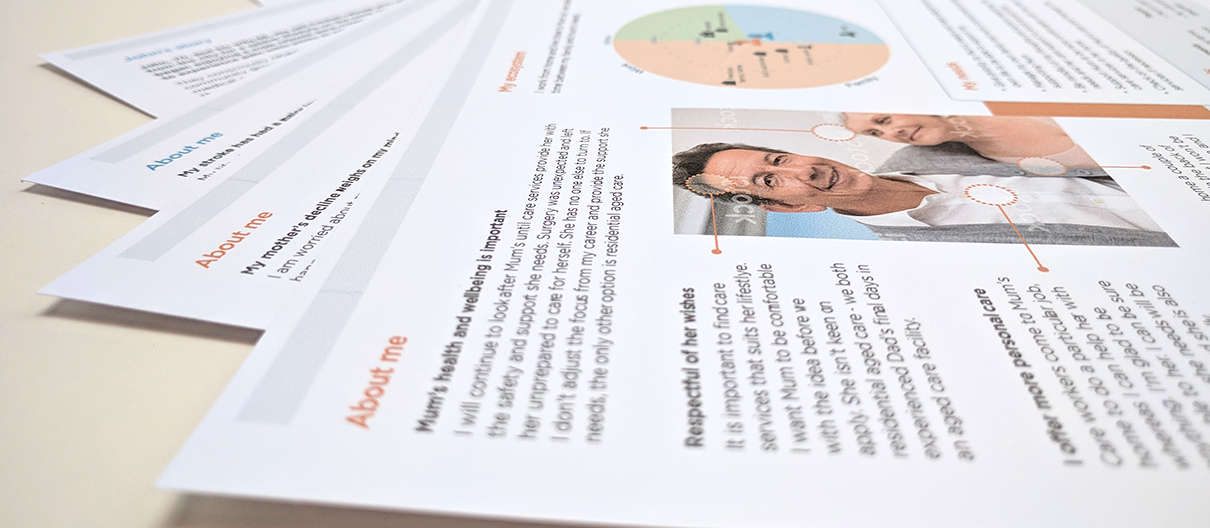 Key outcomes
Research findings increased understanding of the current experience and provided investment opportunities and recommendations to improve the home care client experience
In depth analysis of the care recipient experience when receiving home care services, enabled our client to redesign their services to meet customer needs, improve their service model, and enhance their brand
Gap analysis enabled improvements on the website, marketing material and service quality, and identified the capabilities required to enable delivery of the future state home care client service and experience